Did you have a delightful Christmas celebration?
We did here at the Carter house.
This Christmas was the year of coffee at the Carter house!
If you're a newer subscriber, back about two months ago I asked for help locating parts to make a fancy drip coffee maker for my youngest daughter Kelly.
She works full time at a deluxe coffee shop in Laconia, NH called Wayfarer. She's loving it and is getting ready to become a certified barista.
With your help, and that of my wife and son, we were able to source parts that allowed me to make one. It wasn't exactly like what Kelly had seen in a magazine, but she loves it. Here it is: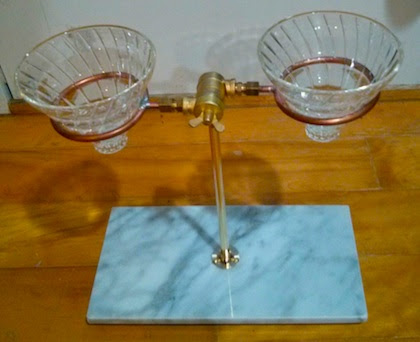 I made the round loops that hold the glass funnels using standard 1/4-inch soft copper that you might use to pipe water to a refrigerator ice maker or a furnace humidifier.
The center brass fitting with the thumbscrew is a lamp part as is the tall brass rod and the round brass flange on top of the marble.
Kelly gave me my own personal single-cup coffee brewer machine and I LOVE IT!
Kathy got Kelly a coffee bean roaster, so now we have the absolute freshest coffee in the house. The aroma of the roasted beans is intoxicating.
I want to THANK YOU for helping with this project. I was stunned by the offers of help. One of my subscribers owns a machine shop and offered to make a part or two if I got into a bind.
How blessed am I to have you as a subscriber! Your generosity is one way to help make the world a better place, that's for sure.
Today we finally got real winter weather for the first time here in central New Hampshire where I live. As I type this, I'm looking out my man-cave window down at five inches of new pure-white snow.
But I want you to see what I was doing the day after Christmas. Had you been here with me, we could have had a picnic lunch!!!!
CLICK HERE to see some amazing photos.
One More Favor – Are You a Chemist?
I need another favor and this is pretty important.
Are you a PhD physical chemist? Or do you have a darn good grasp of physical chemistry and whether or not other ions can take the place of oxygen in an oxidation reaction?
Sounds complicated doesn't it? This is all about my upcoming Defective Shingles book project that's MUCH BIGGER than I ever thought it would be.
Wait until you see what I've discovered in the past three weeks. Here's the best part about the book. It appears I've stumbled across a solution for you to help you EXTEND the life of your FAILING asphalt singles.
The solution is SIMPLE and not too expensive.
Also, if you're thinking of replacing your roof soon, STOP.
Do NOT do the job until you read my book. I've discovered the silver bullet when it comes to roofing material and the GOOD NEWS is you can afford it.
If all goes well, the book should be available within 30 days, so hang tight.
Anyway, if you're a chemist and can help me, I'd LOVE to call you ASAP. Please reply to this email and let me know if I can call you today / tonight or anytime soon.
Epic Flooding in the UK
I received a comment on one of my columns overnight from Linda who lives in the Yorkshire region of the UK. She got flooded out of a basement apartment.
I feel it's VERY IMPORTANT for you to read the column and then read my response to her frustrated comment. She was looking for someone to blame about her misfortune.
If you're a seasoned subscriber, you know where this is going, don't you?
CLICK HERE NOW so you don't become a victim like Linda. Remember, READ the column first, then her comment and my reply.
Repair Concrete Slab Expansion Joints
Jeff, from Simi Valley, CA reached out to me the day after Christmas. He needs to repair an unsightly crack between his patio and his house.
My guess is you might have a similar situation at your home where you want to disguise a crack in concrete.
Here's the crack at Jeff's house:
CLICK HERE to read my answer to Jeff.
In the column, I reveal two things:
the correct sealant or caulk to use
a SECRET method to disguise the repair!
CLICK HERE now and you'll see why you continue to be a subscriber to this newsletter.
Once again, in the column I give you the DIRECT LINK to purchase a SPECIAL CAULK you need to do the job right. Click the link just above and read the column.
Support this Newsletter
A month before Christmas, you may have been the subscriber that said, "Tim, please put a link in each newsletter for your Amazon affiliate link. We NEED TO BE REMINDED to help support you."
Thanks! PLEASE CLICK HERE if you're going to shop at Amazon.com for anything. When you buy, I get a tiny commission. It doesn't cause your price to go up.
The small commissions add up and HELP me to continue to produce this FREE newsletter.
Thanks!
That's enough for today.
Happy New Year! 2016 is going to be the best yet!
Tim Carter
Founder – http://www.AsktheBuilder.com
Do It Right, Not Over!